Upload GDTF Files
Clicking the

icon in the title bar opens the Upload page.
Hint:
You can also upload your GDTF file by Drag & Drop on the upload page.
There is one button called Choose a .gdtf file from your PC. Clicking it opens a file browser on the computer where the desired file can be selected.
When the file is selected the file name is displayed next to Choose a .gdtf file from your PC. With a file selected a new button appears. It is called Proceed. This is an example with a gdtf file: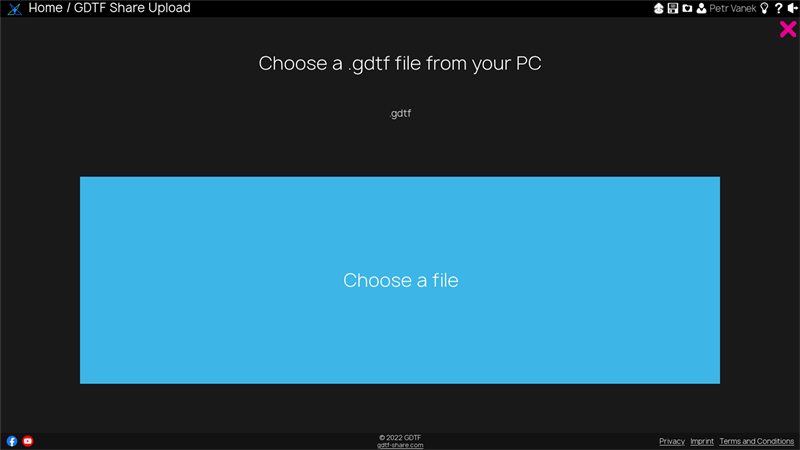 Click the Proceed button to open the next page:
At the top of the page, the file name and a short explanation about the purpose of this page is displayed. The system tries to match the manufacturer and fixture name with existing elements.
Then there are two rows that display the Names from the file and the Upload info names that are used for the uploaded file.
If the fixture file is a known Manufacturer and Fixture, then the two rows match. If one of the elements is unknown, then there is an option to select one of the existing.
The library list is displayed below these two lines. It has two columns. There is an input field in the second row of each column. This can be used to filter the list.
There is an input field above the filter input - it is called Add a new one. This input field can be used to add a new element to the Manufacturer and Fixture columns.
It is possible to select one of the existing elements in each column, or add a new element in one or more columns. For example if an existing manufacturer creates a new fixture, then it is recommended to select the existing manufacturer, but create the new fixture name.
Once the upload info is selected, then a revision text has to be added in the input field below the manufacturer, fixture, and mode lists.
The revision text can be up to 90 characters. For example, if it is the first version of the fixture, it could be called "First version". If there is something that has been changed in the fixture file, then it can be a good idea to write what was changed.
Clicking the Upload button uploads the file to the library. The Clear file button clears all the info and cancels the upload. Both buttons return to the upload a .gdtf file page.
Close the upload page by clicking the

in the upper right corner.